Sidecar Experience in Marrakech * Expérience en sidecar à Marrakech (1h30)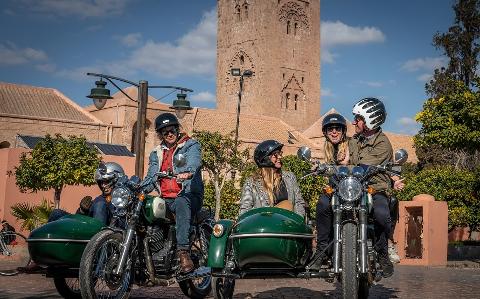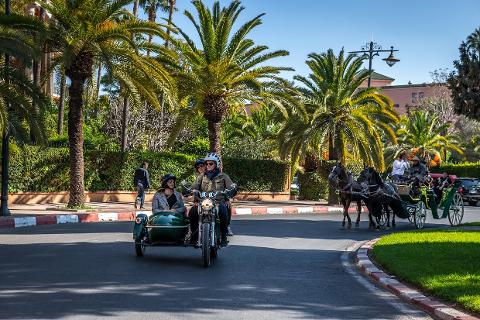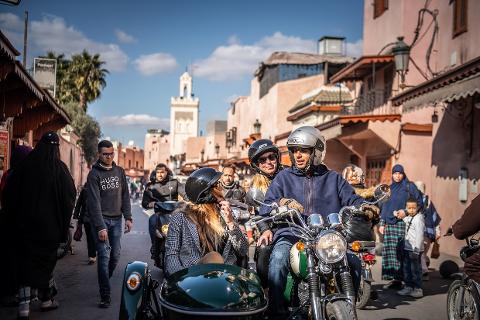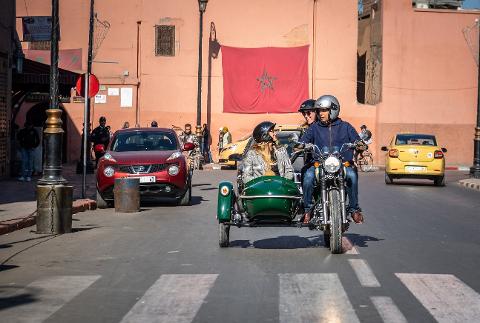 Duration: 90 Minutes (approx.)
Location: Marrakech
Product code: SDC90MRAK
Discovery of Marrakech in sidecar (1h30)
Highlights
A ride for all ages!
Discover the city from an brand new angle, aboard a mythical sidecar!
A ride with real pilots who know all the hidden treasures of Marrakech.
A tailor-made trip full of stories, according to your expectations.
A private access to a villa dating from the 20s, the roof terrace of a friend who offers a breathtaking view of the Medina, a small craft workshop in the old-fashioned style, a tea break in a historic house or a detour through forgotten tracks…
Our guides excel in the art of finding hidden treasures to offer you a unique look on Marrakech, all aboard a vintage sidecar! Perfect to boost your Instagram ☺
Your adventure off the beaten path is tailor-made to suit your desires and interests.
Always on the lookout and very spontaneous, our guides know Marrakech as their pocket and you will discover all their secret places.
There is no predefined program, this ride is made according to your desires and your interests!
You want to watch old-fashioned life scenes? Choose a ride through the old medina.
You can also choose to explore the mythical palm grove, an ancient oasis with palm trees and breathtaking views of the Jbilets desert.
The French Quarter, Gueliz, is also a nice ride for all lovers of art deco and vestiges of the 30s.
You will spend about 70% of the walk in the sidecar, and 30% to explore by foot.
Logistics & Details
For security reasons, only pilots can drive the sidecars.
This activity is possible all year round. Duration : 90 minutes.
Many departures per day : 9.00am - 11.00am - 2.00pm - 4.00pm.
Activity starts from the GRAND CAFE DE LA POSTE. Starts from hotel or riad are possible, with extra charge ( possible to select in the second booking step"Extras")
Ride for the whole family ☺ (minors under 12 must be accompanied by an adult).
Once your booking has been made, we will reconfirm all details by email within 24 hours.
Maximum 2 people per sidecar (plus the pilot)
Good to know
Closed shoes, comfortable clothes.
A hat and sunscreen in summer
We suggest that you avoid wearing shorts or mini skirts to respect local customs.
If your interested in longer rides, contact us!
Included
Starting from the Café de la Poste in Guéliz, Marrakech. Start from your hotel available, on request, with extra charges.
Helmets, disposable charlottes and waterproof equipment are at your disposal.
A leader pilot who speaks English.
Not included
Tips and extras.
Individual risk insurance.
-------------------------------------------------------
**Version française ***
Une balade originale et stylée !
Points forts
Une sortie pour tous les âges !
Découvrez la ville sous un angle inédit, à bord d'un mythique sidecar !
Une balade avec de vrais pilotes qui connaissent tous les trésors cachés de la ville ocre.
Une balade sur-mesure pleine d'anecdotes, au gré de vos envies.
Un accès privé à une villa datant des années 20, le toit terrasse d'un ami qui offre une vue imprenable sur la Médina, un petit atelier d'artisanat au style désuet, une pause thé dans une demeure historique ou encore un détour par des pistes oubliées, nos leaders excellent dans l'art de dénicher les perles rares et les trésors enfouis afin de vous proposer un regard unique sur Marrakech, le tout à bord d'un sidecar vintage ! De quoi booster votre Instagram ☺
Votre aventure en dehors des sentiers battus est créée sur mesure en fonction de vos envies et centres d'intérêt. Toujours à l'affût et très spontanés, nos leaders connaissent Marrakech comme leur poche et vous feront découvrir leurs coups de cœur et secret places.
Il n'y a pas de programme prédéfini, cette balade se fait au gré de vos envies et de vos centres d'intérêt !
Vous voulez observer des scènes de vie désuètes, choisissez une balade à travers la médina.
Vous pouvez aussi choisir de partir à la découverte de la mythique palmeraie, une oasis millénaire avec ses palmiers et sa vue imprenable sur le désert des Jbilets.
Le quartier français, le Guéliz est aussi une belle balade à faire pour tous les amoureux d'art déco et de vestiges des années 30. Vous passerez environ 70% de la balade dans le sidecar, et 30% à explorer à pied.
Alors, en route ?
A savoir
Pour des raisons de sécurité, seulement les pilotes peuvent conduire les sidecars.
Cette sortie est possible toute l'année.
Plusieurs départs dans la journée : 9h00 - 11h00 - 14h00 - 16h00.
L'activité commence depuis le GRAND CAFE DE LA POSTE. Départs depuis hôtels & riads possible sur demande, avec supplément (sélectionnez-le à la 2e étape de la réservation, dans les "Extras").
Balade pour toute la famille ☺ (les mineurs de moins de 12 ans doivent être accompagnés par un adulte).
Une fois votre demande de réservation effectuée, nous vous reconfirmerons tous les détails par email dans les 24 heures suivantes.
Maximum 2 personnes par sidecar.
A prévoir
Des chaussures fermées, des vêtements confortables.
Un chapeau et de la crème solaire en été.
Nous vous suggérons d'éviter de porter un short ou une mini jupe afin de respecter les coutumes locales.
Si vous êtes intéressés à faire une balade plus longue, contactez-nous!
Inclus
Départ depuis le Café de la Poste à Guéliz, Marrakech. Départ depuis votre hôtel possible, en supplément.
Casques, charlottes jetables ainsi que des équipements imperméables sont à votre disposition.
Un pilote-leader qui parle français et/ou anglais.
Non-inclus
Pourboires et extras.
Assurance risque individuelle.