Buggy RZR in Essaouira from Marrakech * Buggy RZR à Essaouira depuis Marrakech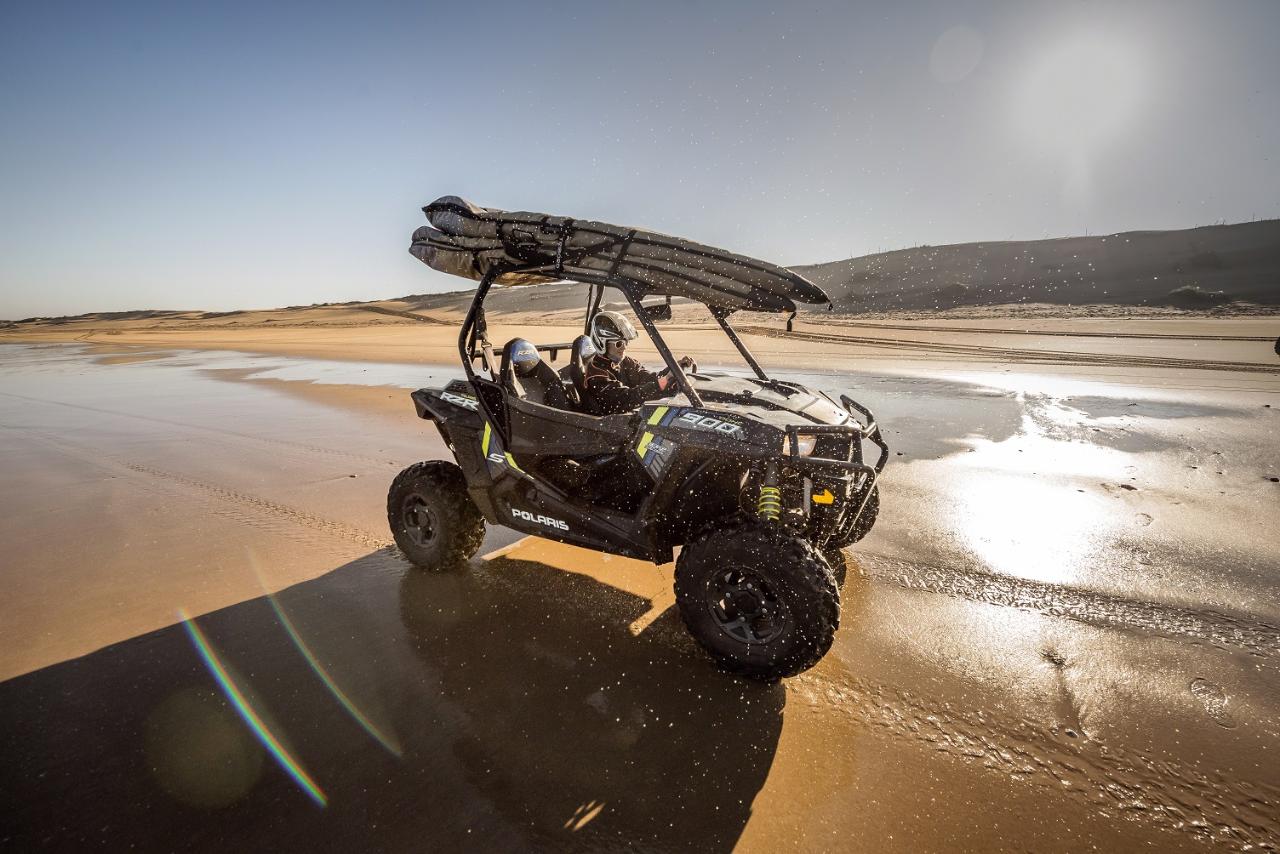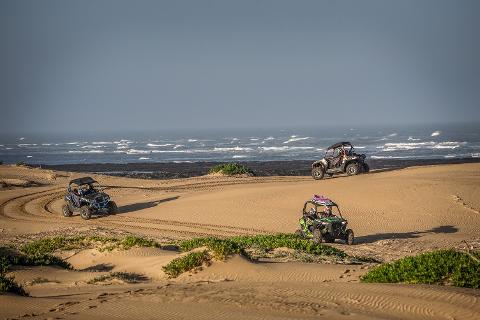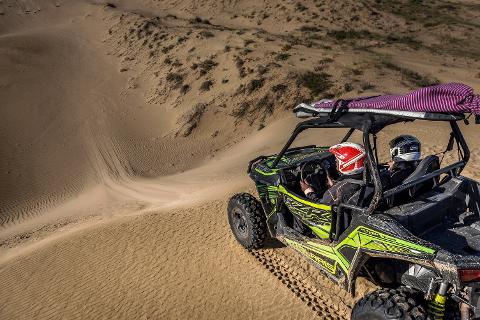 Duration: 9 Hours (approx.)
Product code: BUGFDESS
Version française ci-dessous.
Adventure in the dunes just by the sea !

Highlights
Ride a buggy in the sand dunes along the sea near Essaouira!
Latest generation Polaris RZR buggies, easy to handle (2-seater)
Surf lesson option available !
Private driver for your transfer from/to your hotel in Marrakech.
Escape for a day and discover the surroundings of Essaouira by buggy – along the sea side! This is a real experience Dunes & Desert proposes you, perfect for all travelers looking for dunes & adventure. With a private driver and a comfortable FWD to take you to Essaouira, this is a Premium Tour.
Start early and enjoy this full day out of Marrakech. Road is comfortable and straight until you reach the sea side where the RZR Polaris buggies are waiting for you. Starting point is set in an authentic village where children and inhabitants are sharing the street with donkeys.
At arrival, little tea & snack will be proposed, followed then by before handing you over your equipment : overall, scarf, scarf & helmet.
Aiming the dunes, you'll start by crossing lands full of authentic Argan trees, very typical tree species from this region and real symbol of Morocco! Reaching the sea side, this is where you will discover your playground : dunes diving in the sea ! Landscapes are amazing and your guide will show you the way for a great and safe tour. This first part lasts 2 hours.
Lunch in a restaurant with great sea view (à la carte / not included).
In afternoon, 1-hour drive needed in the sand again to get back to the starting point.
Surf class option in afternoon is available ! If not choosen and if time's permitting, you'll be able to make a hook by Essaouira Harbour behore heading back to Marrakech.
This is a once-a-life experience along the Moroccan Atlantic sea coast.
Logistic & Details
This activity is possible all year round. Exact pick up time confirmed by email after your booking.
A minimum of 2 people is required for this activity.
Departure at 7:30am, return at 7:30pm
Buggies are 2-seater side-by-side. Always 2 people per buggy.
There is one buggy 4-seater available on request. Contact us for a tailor-made quote.
Minors under 16 must ride as passengers.
Minors 16 and over require parental waiver to drive a buggy.
Option with a surf class available! Possible to book it during the second step of your booking, in Extras.
To know * To provide best experiences as possible, this tour doesn't have instant confirmation yet. You will receive a confirmation within 24 hours after your payment.
Good to know
Don't forget to bring your ID (passeport or driving license).
Have your camera with you for great snapshots or serious photography.
We recommend you wear closed shoes, comfortable clothing, sunscreen and warm clothes for winter sunshine. To best enjoy this experience, we suggest you respect local customs and avoid wearing shorts or skirts. And a windbreaker ! Essaouira is the city of the Wind!
For your peace of mind, we recommend you check you have a personal all risk insurance with repatriation option (If needed, this link may be helpful if your actual insurances don't cover all activities)
Included
Pick up from & return transfer to your hotel/riad (or closest parking) if in Marrakech or less than 5km from the center) in Toyota Land Cruiser A/C with English speaking driver
Polaris RZR Buggies full automatic 800cc, 2-seater.
Helmet, glasses, coveralls and gloves at your size
An English-speaking professional guide.
Not included
Fresh lunch by the sea (A la carte menu).
A surf lesson in the afternoon on request and according to the weather (in this case, no visit of the medina of Essaouira, and a return to Marrakech around 20:30)
Tips and extras
Individual risk insurance.
------------------------------------------------------------
**Version française**
Expérience dans les dunes avec vue sur mer !

Points forts
Des buggy Polaris RZR 800cc dernière génération, faciles à conduire (2 places)
Conduisez ces puissants engins le long des dunes d'Essaouira, le long du bord de mer.
Une sortie en PREMIUM pour tous les âges, et tous les niveaux (même débutant)
Un transfert avec chauffeur privé au départ de votre hôtel à Marrakech.
Évadez-vous le temps d'une journée et partez à la découverte des alentours d'Essaouira en buggy, au bord de mer !
C'est une véritable expérience que Dunes & Desert vous propose, idéale pour tous les voyageurs à la recherche de dunes et d'aventure.
Avec un chauffeur privé et une FWD confortable pour vous conduire à Essaouira, cette activité est classée Premium!
Commencez tôt et profitez de cette journée complète hors de Marrakech. Des buggies RZR Polaris vous attendent.
Point de départ dans un village authentique où les habitants partagent la rue avec des ânes. À votre arrivée, un petit thé et une collation vous seront proposés, suivis de la remise de votre matériel: combinaison, écharpe et casque. En direction des dunes, vous commencerez par traverser des terres remplies d'authentiques arganiers , cette espèce d'arbre très typiques de cette région et véritable symbole du Maroc!
Arrivés au bord de mer, c'est là-bas que vous découvrirez votre terrain de jeu: des dunes plongeant dans la mer! Les paysages sont incroyables et votre guide vous montrera le chemin pour une visite agréable et sécuritaire. Cette première partie dure 2 heures.
Déjeuner dans un restaurant avec vue magnifique sur la mer (à la carte / non inclus).
Après le déjeuner, il vous faudra 1 heure sur les pistes ensablées pour revenir au point de départ!
L'option de cours de surf en après-midi est disponible! Mais sans cours de surf, si le temps le permet, vous pourrez faire un crochet par le port d'Essaouira.
En tout et pour tout, cette journée est une expérience mémorable en bord de mer !
A savoir
Cette excursion est possible toute l'année. Heure de rendez-vous confirmée par mail après votre réservation.
Un minimum de 2 personnes est requis pour cette sortie.
Départ à 7h30, retour à 19h30.
Les buggies sont biplaces. Il y a toujours 2 personnes par buggy. Les prix sont par personne.
Un buggy 4-places est disponible. Contactez-nous pour un devis personnalisé.
Les mineurs de moins de 16 ans sont acceptés seulement comme passagers.
Les mineurs âgés de 16 ans et plus doivent être munis d'une autorisation parentale pour pouvoir piloter un buggy.
Option cours de surf disponible (sous réserve de disponibilité). Cette option vous sera proposée en 2e volet de réservation.
IMPORTANT * Cette activité ne comporte pas encore de confirmation instantanée. Vous recevrez la confirmation dans les 24h après votre paiement.
A prévoir
N'oubliez pas votre pièce d'identité (passeport, CIN ou permis de conduire)
N'oubliez pas votre appareil photo pour des clichés sympas ou capturer vos plus beaux moments.
Nous recommandons de porter des chaussures fermées, des vêtements souples et confortables, un écran solaire et des vêtements chauds pendant l'hiver. Un coupe-vent est également recommandé ! Essaouira est la ville du vent! Pour votre confort et dans le respect des coutumes locales nous déconseillons de porter des shorts ou des jupes.
Pour votre tranquillité d'esprit, nous vous recommandons de vérifier que vous avez une assurance personnelle tous risques avec option rapatriement. Dans le cas où certaines activités ne seraient pas couvertes, ce lien peut vous être utile.
Inclus
Le transfert privé A/R depuis votre hôtel à Marrakech en Toyota Land Cruiser A/C avec chauffeur francophone
Buggys automatiques Polaris RZR 800cc biplaces.
Casque, lunettes, combinaisons et gants à votre taille
Un guide professionnel francophone.
Non-inclus
Déjeuner frais en bord de mer. Menu à la carte.
Un cours de surf l'après-midi sur demande et en fonction de la météo (dans ce cas, pas de visite de la médina d'Essaouira, et un retour à Marrakech aux alentours de 19h30/20h00)
Pourboires et extras.
Assurance tout risque individuelle.