Hot Air Balloon near Marrakech * Montgolfière près de Marrakech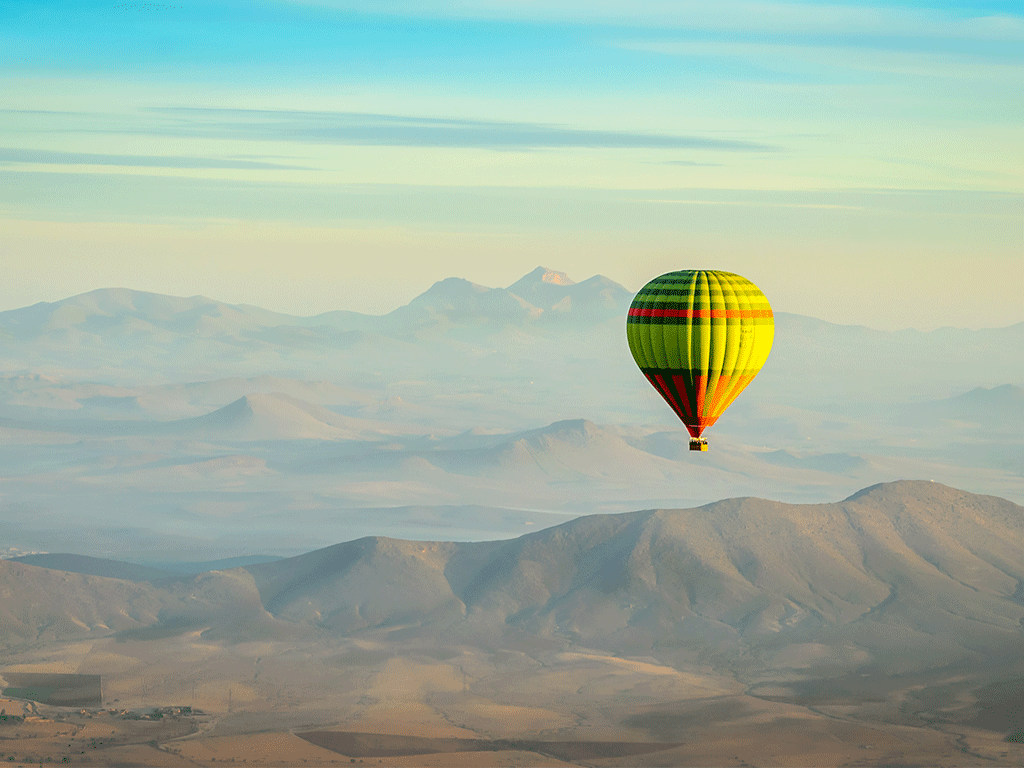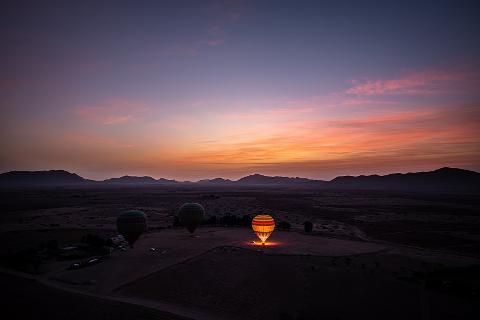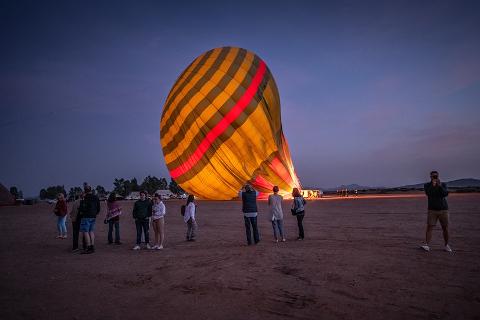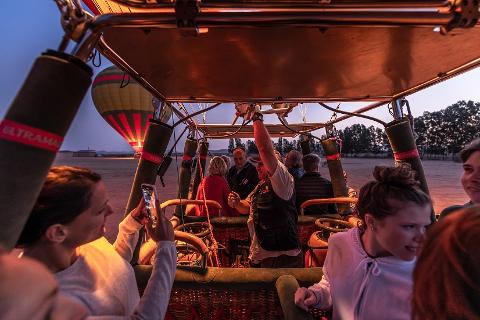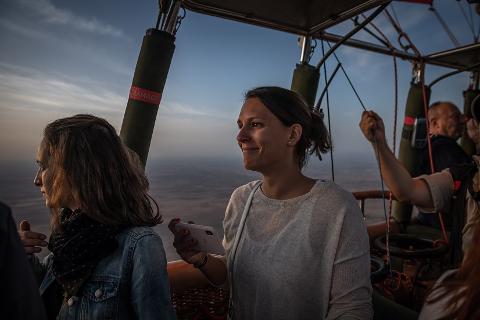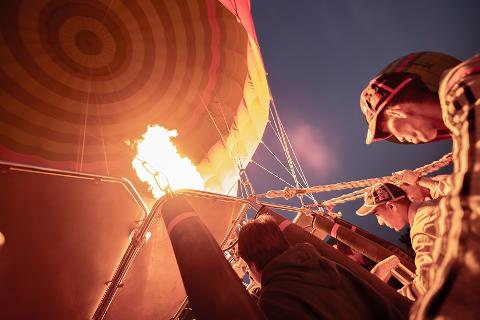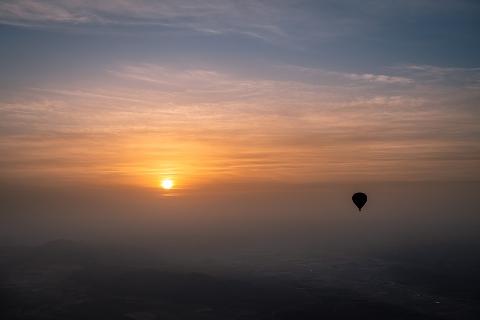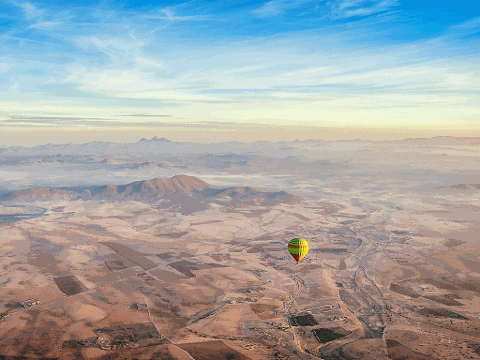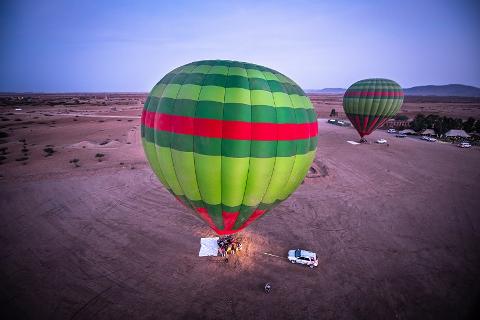 Duration: 4 Hours (approx.)
Location: Marrakech
Product code: HOTBALSTD
**Version française ci-dessous**

Enjoy this once-in-a-life experience!
Glide through the skies to take in Marrakech from above! Savour the unique experience of ballooning over Marrakech. Outstanding equipment maintenance and meticulous planning combine to provide one magical hour's ride over the millennial city of Marrakech with the High Atlas mountains as a backdrop.
Highlights
A once-in-a-life experience that you will be able to check off from your life's bucket-list.
Enjoy the best views from the desert, just North of Marrakech.
Discover the spectacular pumping of the balloon with the staff.
Stunning views over snowy Atlas Moutains peaks from December to March (following weather conditions)
Get automatically 30% on our Camel Ride in Marrakech if you buy at sametime (we advise to book on a different day).
Description
Pick up (early start) from your hotel or riad and transfer to the balloon launch site in the Jbilets hills : assist to this setup ! This show is ferric. Listening at the sound of the burners, you will be able to stare at the ballons rising up just before passengers take place into the baskets for a smooth and quiet take off.
After an hour flight at 3000 ft altitude following weather conditions. Your pilot will drive you fllowing the winds. Afater landing, a fully air conditioned 4WD vehicle will take you to drive you back to starting point.
Savour a a snack of msemen (Moroccan Crepes) and enjoy an authentic mint tea before going back to the city. Our intimate knowledge of the area, the high level of equipment maintenance and our friendly, experienced monitors provide you and your friends or family (children welcome) with an unforgettable holiday memory.
You can combine the activity with other great experiences such as camel ride, bike tour or buggy tours. Contact us to get a quote.
Looking for private stuff ? Look for the ROYAL EXPERIENCE and privatize the basket and the pilot just for your party. « Traiteur » breakfast served on board. Just luxurious !
Logistics & Details
This excursion is available all year-round but weather dependant.
This excursion requires an early start (as early as 5 AM in the summer). Inform your hotel or riad that you will need an early breakfast.
Total fligh time is about 50 minutes, and total excursion time is about 4-6 hours (including transfers, flight, excursion, breakfast & visits)
Children of 10 and under are entitled to a 50% discount. Baskets are
Once you've made your booking, its status will be "PENDING". Our team will then confirm the tour with all details by email as soon as possible within the next 24 hours. This is made in order to propose you the best flights.
Good to Know
You want the trip just for you? Book Royal Flight, with a luxury breakfast on board !
Be sure to ask your hotel or riad for an early breakfast to ensure timely departure
We recommend you wear closed shoes, comfortable clothing, a hat, sunscreen and a windbreaker (required in the winter). To best enjoy this experience, we suggest you respect local customs and avoid wearing shorts or skirts.
For your peace of mind, we recommend you check you have a personal all risk insurance with repatriation option.
Included

Pick up from & return transfer to your hotel or riad (5 km or less from Marrakech).
English speaking professional activity leaders.
4wd Drive excursion around remote villages
Traditional msemen pancakes served hot with mint tea served after the flight.
Flight certificate.
Limited liability insurance
Not included
Tips & extras

Personal risk insurance
********************************************
**Version française **

Vivez cette expérience une fois dans votre vie !
Points forts
Une expérience à faire au moins une fois dans sa vie. Offrez-vous ce cadeau pendant vos vacances!
Survolez le désert de la portion Nord de Marrakech.
Assister au gonflage de la montgolfière avant le décollage.
Des vues spectaculaires sur les sommets enneigés de l'Atlas de décembre à mars (selon la météo).
Obtenez automatiquement 30% de remise sur notre Balade à dos de dromadaire si vous réserver au même moment les 2 activités (nous vous conseillons cependant de réserver l'activité sur un autre jour)
Description
Planez en douceur et découvrez Marrakech vue du ciel ! Survolez les grandes plaines de Marrakech et les contreforts du Haut-Atlas. Des vues inoubliables !
Près d'une heure de vol au programme avec les montagnes du Haut-Atlas en toile de fond. Une expérience unique en toute sécurité grâce à notre équipement en parfait état.
Départ tôt le matin. Nous venons vous chercher à votre hôtel/riad et nous vous conduisons au site de lancement dans les désert des Jbilets : assistez à la mise en place des ballons. Ce ballet est féerique : aux sons des brûleurs, vous pourrez voir les montgolfières s'élever juste avant que les passagers prennent place pour un décollage tout en douceur. Près d'une heure de vol, suivant les conditions météorologiques. Votre pilote vous conduira au fil des vents. A l'atterrissage, les voitures 4x4 vous récupérerons pour vous ramener au point de départ.
Savourez un msamen et profiter d'un thé à la menthe servi sous la tente caïdale avant de repartir vers la ville de Marrakech. Notre connaissance intime de la région, la qualité de notre matériel et le professionnalisme de nos guides vous promettent un moment mémorable.
Accessible aux familles avec enfants. Vous pouvez combiner cette excursion avec d'autres activités ouvertes aux familles : balade à dos de chameau, VTT ou quad (sur devis personnalisé). Option Vol Royal ! Privatisez la nacelle et le pilote, avec en prime un petit déjeuner "Traiteur" servi à bord ! Carrément luxe !
A savoir
Cette activité est possible toute l'année et dépend des conditions climatiques.
Cette activité nécessite un départ très tôt le matin (à 5h durant l'été). N'oubliez pas de prévenir votre hôtel ou votre riad que vous avez besoin de prendre le petit-déjeuner très tôt avant de partir.
Durée totale du vol : 50min environ. Durée totale de l'excursion de 4h à 6h (sont inclus les transferts, le vol, l'excursion dans les villages, un petit-déjeuner et les visites). * Les horaires sont à titre indicatif et peuvent être modifiés.
Réduction de 50% pour les enfants de 10 ans et moins.
Une fois votre demande de réservation effectuée, vous activité aura le statut "PENDING" ce qui signifie "EN ATTENTE DE CONFIRMATION". Nous vous confirmerons tous les détails par email dans les 24 heures suivantes. Nous fonctionnons de cette façon afin de vous proposer les meilleurs vols.
A prévoir
Vous désirez le vol en privé avec un petit déjeuner luxe à bord? Réservez le Vol Royal !
Assurez-vous de prévenir votre hôtel/riad pour ne pas être en retard le matin.
Nous vous recommandons de porter des chaussures fermées, des vêtements souples et confortables, un chapeau, de l'écran solaire et un coupe-vent (nécessaire en hiver). Afin de respecter les coutumes locales, nous vous recommandons d'éviter de porter un short ou une jupe.
Pour avoir l'esprit tranquille, nous vous recommandons de vérifier que vous avez une assurance personnelle tous risques avec option rapatriement.
Inclus
Nous venons vous chercher et vous ramenons à votre hôtel (situé à 5km ou moins du centre de Marrakech)
Pilotes professionnels francophones accrédités.
Balade en 4x4 jusqu'à des villages reculés.
Thé et crêpes traditionnelles après le vol en montgolfière.
Attestation de vol.
Assurance responsabilité civile
Non-inclus
Pourbories et extras.
Assurance personnelle tout risque