Full Quad Bike Adventure in Agafay Desert * Journée Aventure en Quad dans le désert Agafay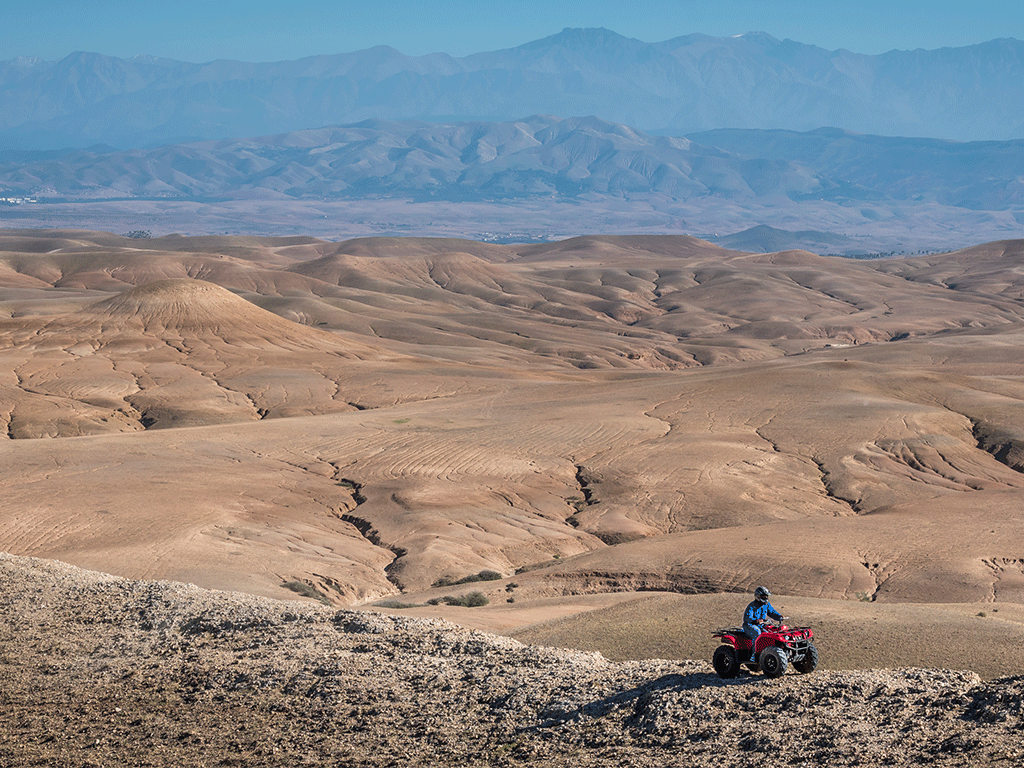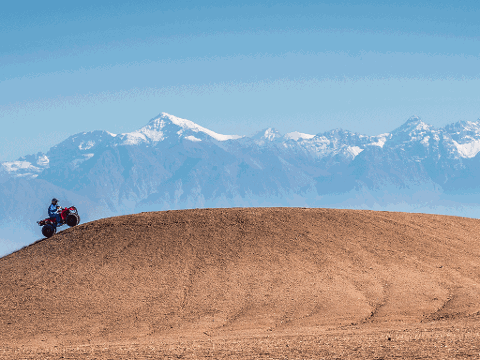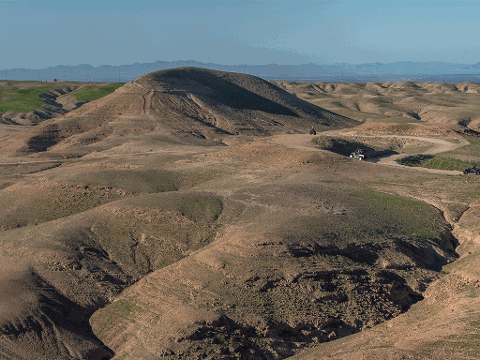 Duration: 8 Hours (approx.)
Product code: QUADFDAG
Admire the foothills of Atlas Mountains !
Highlights
A true desert experience on an unusual vehicle in very small group
Easy-to-drive Yamaha 350cc full automatic.
A full day through all tracks of amazing Agafay Desert.
An authentic lunch cooked by a local family and set outdoors.
The desert of Agafay remains to this day a well kept secret. About 45 minutes from the center of Marrakech, it is a unique place to discover during your next vacation in Marrakech. With its trails that intersect between its beautiful arid hills, the desert of Agafay becomes a superb place for a quad ride! Villages, canyons and oases will also be there.
Our best equipment and guides will be at your service for this innocuous experience.
After a briefing equipment & safety and an initiation, you will start for a great day. During the morning, you will meet the inhabitants who will warmly welcome you to their villages. For the lunch break, a tent lunch will be offered, with, of course, spectacular views of the High Atlas Mountains, especially in the spring.
The second part of the day will be just as enjoyable. Always accompanied by your guide, you will travel new corners of the desert of Agafay to complete the ride in the late afternoon and leave with a beautiful memory of this adventure. The quality of the equipment and our team, friendly and attentive also make our difference. They offer a day of quad beautiful through deserts and mountains. Our guides take you to the most beautiful sites.
The real Morocco! Explore these splendors for yourself in Premium Mode!
Logistics & Details
Daily departures around 9:00. Available all year-round. Exact pick up time confirmed the day before by phone or Whatsapp.
For this adventure, only one person per quad bike. See FAQ here below to know why.
Total time about 8 hours includes meet & greet, transfers, arrival, preparation, briefing, initiation, ride & hotel or riad return.
Privatization possible, considering extra charge.
For your comfort and safety, we strongly recommend no passengers join this activity, only riders. Or passengers with the guide only.
Minors under 16 are allow to participate as passenger and are not allowed to drive a quad. They can ride with the guide only or think about mixing your trip with a buggy tour.
Minors 16 and over require parental waiver to pilot a quad.
A lot of people ask us for dunes, but unfortunately, there are no dunes close to Marrakech.
All our quad bikes guides are Croissant Rouge certified (First Aid).
Good to Know
Don't forget to bring your ID (passeport or driving license).
Have your camera with you for great snapshots or serious photography.
We recommend you wear closed shoes, comfortable clothing, sunscreen and warm clothes for winter sunshine. To best enjoy this experience, we suggest you respect local customs and avoid wearing shorts or skirts.
For your peace of mind, we recommend you check you have a personal all risk insurance with repatriation option (If needed, this link may be helpful if your actual insurances don't cover all activities.
Included
Automatic transmission Yamaha Quads for an easy and comfortable ride.
Pick up from & return transfer to your hotel/riad (or closest parking) if in Marrakech or less than 5km from the center )
Guide, fuel, headwear, eyewear, handwear, waterproof jacket (if necessary)
Bottled water for the ride.
Lunch under tent, near a family house with a view over Atlas Mountains, soft drinks included.
Limited liability insurance.
Not included
Tips and extras.
Personal risk insurance.
-------------------------------------------------
**Version française**
Le désert avec une vue sur l'Atlas !

Points forts
Une expérience désert au pied du Haut-Atlas en tout petit groupe !
Des quads Yamaha 350cc tout automatiques pour une conduite confortable.
Une journée complète au fil des pistes du désert d'Agafay !
Un déjeuner authentique cuisiné par une famille marocaine et servi en plein-air !
Le désert d'Agafay reste encore à ce jour un secret bien gardé. A environ 45 minutes du centre de Marrakech, c'est un lieu unique à découvrir pendant vos prochaines vacances à Marrakech. Avec ses pistes qui s'entrecroisent entre ses magnifiques collines arides, le désert d'Agafay devient donc un superbe lieu pour une balade en quad ! Villages, canyons et oasis sont également au rendez-vous.
Notre meilleur matériel et nos meilleurs guides seront à votre service pour cette expérience anodine.
Après un briefing équipement & sécurité et une initiation, vous prendrez le départ pour une superbe journée. Pendant la matinée, vous partirez à la rencontre des habitants qui vous accueilleront chaleureusement dans leurs villages.
Pour la pause midi, un déjeuner sous tente vous sera proposé, avec bien sûr, des vues spectaculaires sur les montagnes du Haut-Atlas, surtout au printemps. La deuxième partie de la journée sera tout aussi agréable. Toujours accompagné par votre guide, vous parcourrez de nouveaux recoins du désert d'Agafay pour terminer la balade en fin d'après-midi et repartir avec un magnifique souvenir de cette aventure.
La qualité du matériel et de notre équipe, sympas et attentionnés font aussi notre différence. Ils vous offrent une journée de quad de toute beauté à travers déserts et montagnes. Nos guides vous emmènent dans les plus beaux sites.
Le vrai Maroc ! Explorez ces splendeurs par vous-mêmes en mode Premium !
A savoir
Départs quotidiens à 9h00. Heure de rendez-vous précise confirmée par mail ou téléphone.
Durée totale d'environ 8 heures : transferts, accueil et présentations, préparation, briefing, initiation, parcours, retour à l'hôtel.
Privatisation possible avec supplément.
Pour votre sécurité et votre confort, l'option passager n'est pas disponible pour cette journée. Si vous ne voulez pas conduire, il y a une place derrière le guide (à réserver à la 2e étape, à la page des "Extras")
Les mineurs de moins de 16 ans sont acceptés seulement comme passagers, sur le quad du guide.
Les mineurs âgés de 16 ans et plus doivent être munis d'une autorisation parentale pour pouvoir piloter un quad.
On nous demande souvent s'il y a des dunes. Malheureusement il n'y en a pas autour de Marrakech.
Nos guides quad sont tous certifiés Croissant Rouge (Formation Premiers Secours).
A prévoir
Pensez à avoir votre pièce d'identité (passeport, CIN ou permis de conduire)
N'oubliez pas votre appareil photo pour des clichés sympas ou capturer les grands moments de la balade.
Nous recommandons de porter des chaussures fermées, des vêtements souples et confortables, un écran solaire et des vêtements chauds pendant l'hiver. Pour votre confort et dans le respect des coutumes locales nous déconseillons de porter des shorts ou des jupes.
Pour votre tranquillité d'esprit, nous vous recommandons de vérifier que vous avez une assurance personnelle tous risques avec option rapatriement. Dans le cas où certaines activités ne seraient pas couvertes, ce lien peut vous être utile.
Inclus
Nous venons vous chercher et vous ramenons à votre hôtel/riad (ou au parking le plus proche) si situé au centre de Marrakech ou à moins de 5km.
Quads Yamaha (Grizzly 350cc) à boîte automatique pour un parcours confortable
Guide, carburant, casques, lunettes, gants, veste imperméable (si nécessaire)
Déjeuner authentique avec vue sur l'Atlas, avec boissons sans alcool incluses.
Eau en bouteille pour l'activité.
Assurance responsabilité civile.
Non-inclus
Pourboires et extras
Assurance risque individuelle tout risque.