Camel & Quad Combo in the Rock Desert * Combo Dromadaire & Quad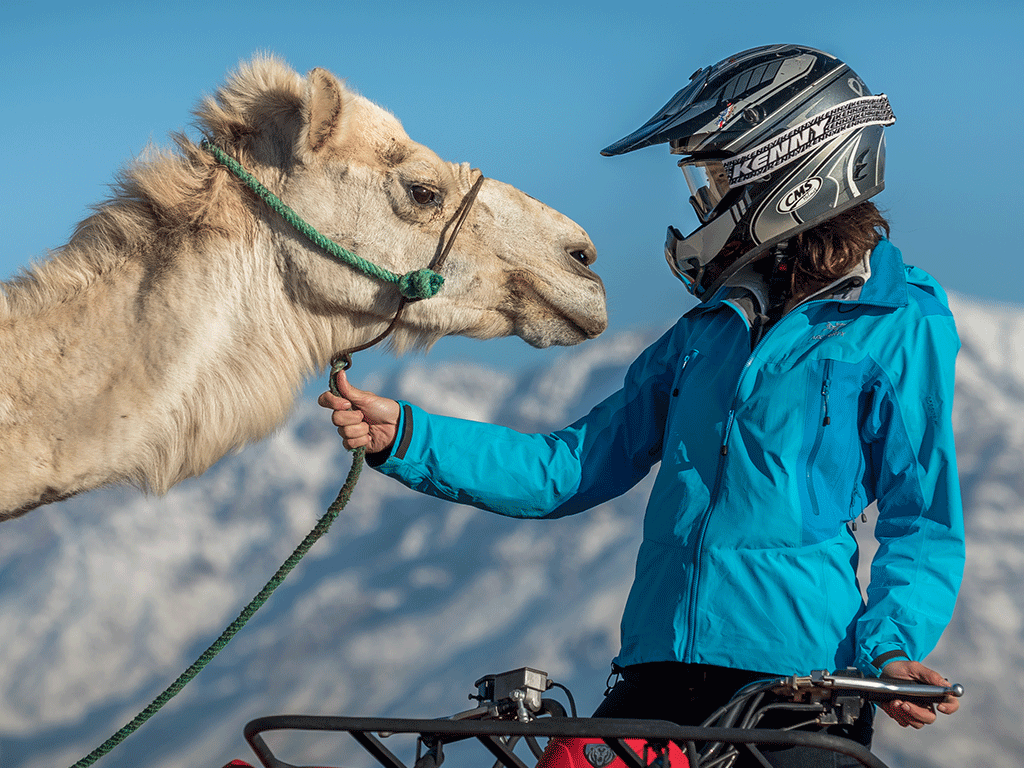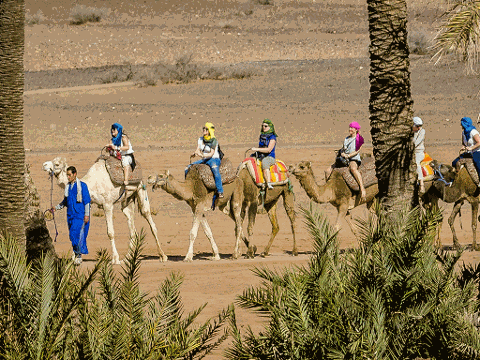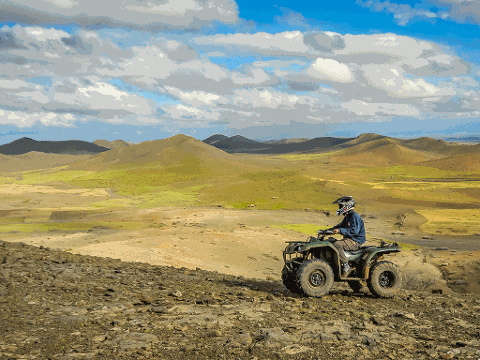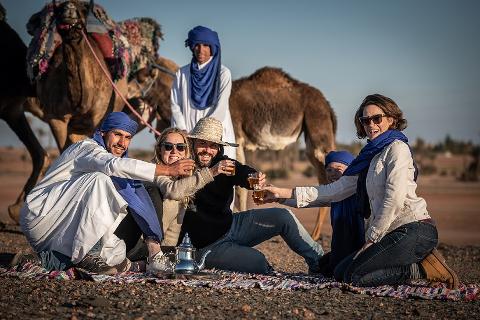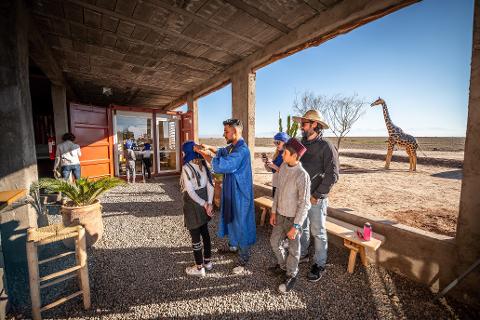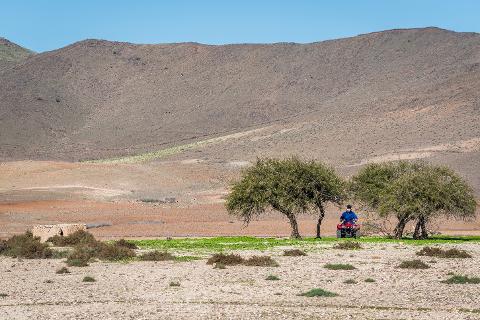 Duration: 8 Hours (approx.)
Product code: COMBOQAG
**Version française ci-dessous**
A full day of adventures !
Highlights
Two best-of activities in one day.
Discover the outskirts of the city of Marrakech and the real way of life of its inhabitants.
An authentic tajine lunch served in a garden (with free wifi!).
This day is perfect for many types of audiences but particularly suitable for a trip with friends.
Experience these two activities in one day! We will pick you up at your hotel and take you to the starting site to meet first of all our team who will explain the program of the day : after a camel ride you will be offered a lunch at Hicham's and a ride in quad (or the opposite : the quad first and then the camel ride).
Whether on your quad or camel, our entire team will look after you to make you live a unique holiday. Discover in one day the beauty of the arid landscapes of the North of Marrakech as well as the hospitality and the authenticity of the Moroccans.
You will feel like adventurers : for the camel tour, we will provide you with a cheich, while for the quad tour, we will provide all the necessary equipment for your safety: helmet, balaclava (hood) and goggles protection.
A relaxed atmosphere and an experience in the heart of Morocco. Marrakech is a big city, but just a few minutes away from the center, it's a whole different world that we propose you to dive in. A real incursion into an authentic universe, this day is one of our bestsellers. We are waiting for you !
Good to know
Available all year round, on request. Exact pick up time confirmed the day before by phone.
Each quad can fit 2 people (one driver & 1 passenger).
Total time about 8 hours includes meet & greet, transfers, arrival, preparation, briefing, initiation, ride & hotel or riad return.
Minors under 16 are allow to participate as passenger and are not allowed to drive a buggy.
Minors 16 and over require parental waiver to pilot a buggy.
Children under 12 have to ride as passenger with an adult on the camel or on the quad bike. They pay only half price. Pay attention : not all children can afford this full day.
A lot of people ask us for dunes, but unfortunately, there are no dunes close to Marrakech.
We maintain a year-round, locally integrated and fully equipped base at departure site with toilets, lockers and free wifi.
Logistic & Details
Don't forget to bring your ID (passeport or driving license).
Have your camera with you for great snapshots or serious photography.
Photo service available on site in extra, starting from 50 MAD / 5€.
We recommend you wear closed shoes, comfortable clothing, sunscreen and warm clothes for winter sunshine. To best enjoy this experience, we suggest you respect local customs and avoid wearing shorts or skirts.
For your peace of mind, we recommend you check you have a personal all risk insurance with repatriation option (If needed, this link may be helpful if your actual insurances don't cover all activities)
Included
Pick up from & return transfer to your hotel/riad (or closest parking) if in Marrakech or less than 5km from the center)
One camel per person (except kids under 10 who should ride with their parent)
Yamaha Quad Bike (Grizzly 350cc) full automatic for a comfortable driving.
Guide with gas, goggles, helmet and waterproof jacket (if necessary) and one cheich for the camel tour to protect from the sun.
Tea break in a typical house : taste the famous mint tea and delicious Moroccan pancakes called msemen.
Tajine Lunch in a garden (vegetarian lunch available on request)
Bottled water during the activity.
Civil Liability Insurance.
Not Included
Tips and extras.
Personal risk insurance.
**************************************************
**Version française**
Une aventure, à 4 pattes et à 4 roues !
Points forts
Deux activités en une seule journée.
Découvrez l'extérieur de la ville de Marrakech et le vrai mode de vie des habitants.
Un authentique déjeuner tajine servi en extérieur (avec wifi gratuit!)
Cette journée est parfaite pour plusieurs types de publics mais particulièrement appropriée pour une sortie entre amis.
Nous venons vous chercher à votre hôtel et vous emmenons au site de départ pour rencontrer en tout premier lieu notre équipe qui vous expliquera le déroulé de la journée : après une balade à dos de dromadaire vous seront proposé un déjeuner chez Hicham ainsi qu'une balade en quad (ou l'inverse : le quad d'abord et ensuite la balade à dos de dromadaire).
Que ce soit sur votre quad ou sur votre dromadaire, toute notre équipe sera un petit soin pour vous faire vivre un moment de vacances unique.
Découvrez en un jour la beauté des paysages arides du nord de Marrakech ainsi que l'hospitalité et l'authenticité des Marocains. Vous vous sentirez dans la peau d'aventuriers: pour l'excursion à dos de dromadaire, nous vous fournissons un cheich, tandis que pour l'excursion en quad, nous nous fournirons tout le matériel nécessaire à votre sécurité: casque, cagoule et lunettes de protection.
Une ambiance relaxe et une expérience au cœur du Maroc. Marrakech est une grande ville, mais juste à quelques minutes du centre, c'est un tout autre monde que nous vous proposons de découvrir. Une réelle incursion dans un univers authentique, cette journée est un de nos best-sellers. Nous vous attendons !
A savoir
Cette activité est possible toute l'année. Heure de rendez-vous précise confirmée le jour précédent par téléphone.
Un quad peut prendre deux personnes (un pilote et un passager)
Durée totale d'environ 8 heures: transferts, accueil et présentations, préparation, briefing, initiation, parcours et retour à l'hôtel.
Les mineurs de moins de 16 ans sont acceptés seulement comme passagers.
Les mineurs âgés de 16 ans et plus doivent être munis d'une autorisation parentale pour pouvoir piloter un quad.
Les enfants de moins de 12 ans doivent monter avec un adulte sur le dromadaire et sur le quad. Ils ne payent que moitié prix. Attention, ce ne sont cependant pas tous les enfants qui sont capables d'apprécier la journée complète.
On nous demande souvent s'il y a des dunes. Malheureusement il n'y en a pas autour de Marrakech.
Notre base de départ, intégrée à un village local, est ouverte toute l'année et dispose de toilettes, de casiers et d'une connexion wifi gratuite.
A prévoir
Pensez à avoir votre pièce d'identité (passeport, CIN ou permis de conduire)
N'oubliez pas votre appareil photo pour des clichés sympas ou capturer les grands panoramas de l'Atlas.
Des photos sont disponibles à la vente après la balade, en extra, à partir de 50 MAD / 5€.
Nous recommandons de porter des chaussures fermées, des vêtements souples et confortables, un écran solaire et des vêtements chauds pendant l'hiver. Pour votre confort et dans le respect des coutumes locales nous déconseillons de porter des shorts ou des jupes.
Pour votre tranquillité d'esprit, nous vous recommandons de vérifier que vous avez une assurance personnelle tous risques avec option rapatriement. Dans le cas où certaines activités ne seraient pas couvertes, ce lien peut vous être utile.
Inclus
Nous venons vous chercher et vous ramenons à votre hôtel/riad (ou au parking le plus proche) si situé au centre de Marrakech ou à moins de 5km.
Un dromadaire par personne (sauf pour les enfants de 10 et moins qui montent avec leurs parents)
Quads Yamaha (Grizzly 350cc) à boîte automatique pour un parcours confortable.
Guide, carburant, casques, lunettes, gants, veste imperméable (si nécessaire) et un cheich pour la balade à dos de dromadaire pour vous protéger du soleil.
Pause thé chez l'habitant: goûtez le fameux thé à la menthe et les délicieuses crêpes marocaines appelées msemen.
Déjeuner tajine servi & cuisiné par l'habitant (Option végétarienne disponible sur demande)
Eau en bouteille pour l'activité.
Assurance responsabilité civile.
Non-inclus
Pourboires et extras.
Assurance risque individuelle.