Quad Bike in Jbilets Desert * Quad dans le désert des Jbilets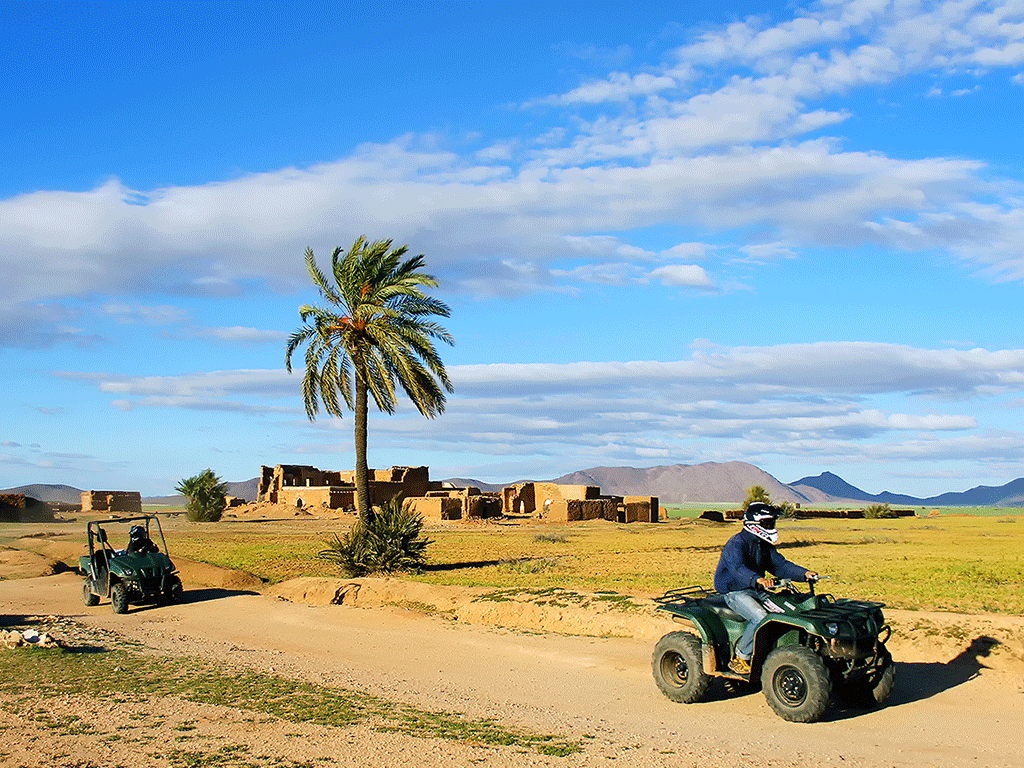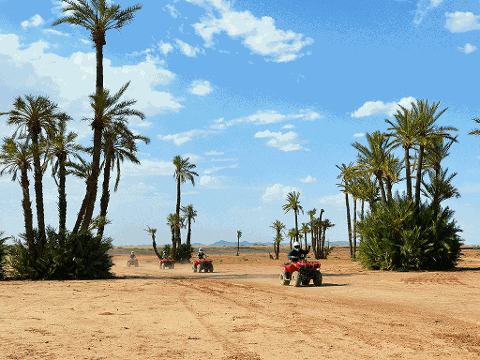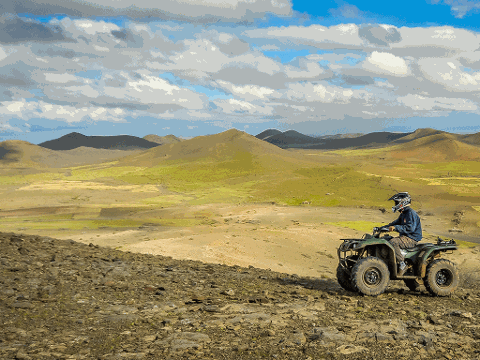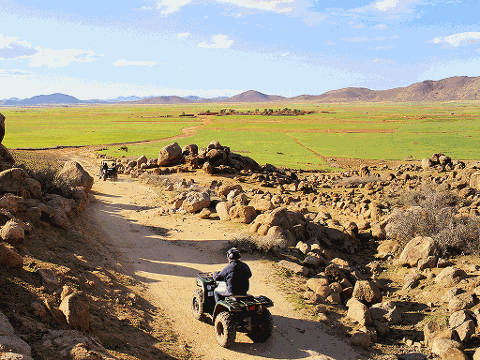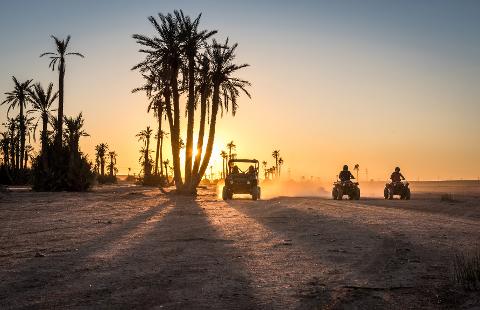 Duration: 4 Hours (approx.)
Product code: QUADHDJB
**Version française ci-dessous**
Safe & serious fun in the Marrakech Desert
Highlights
Get out and be in a place you never suspected, only few kilometers away from the center.
Discover the outskirts of the city of Marrakech and the real way of life of its inhabitants.
Careful guides ready to share their love of Morocco.
Get out ! Dunes & Desert brings you in the best places of the area : Marrakech's stone desert, wadis and palmgroves! The valleys of this place called « Jbilets Desert » will suprise you by its light and by the special feeling of being out-of-nowhere. Only 30 minutes from the Center of Marrakech, this trip needs only one of your halfdays.
Once on site, safety first ! Welcome tea, check-in, equipment briefing (Yamaha quads) and initiation to the driving to be all ready for departure to go explore the vast but diminishing remnants of the Marrakech palmeraie and desert. And of course, great views of the High Atlas, the roof of North Africa.
Our reputation is already made : our detailed knowledge of the area, top-notch in-house maintenance, the complete reliability of our equipment and the super team of guides are all making the difference. On the way, a halt is planned in a little village to stretch your legs, sip hot tea and enjoy Berber hospitality, and if time permitting, our guides will be happy to show experienced riders their favorite tracks & spots.
This family-friendly half day excursion can also be tailored, on demand, to suit you and your parties tastes for exploration and adventure. Discover the Jbilets desert area where the beaten path stops and sometimes even enjoy great views of the High Atlas Mountains. A perfect outing for adventurous travelers looking for Moroccan realness : its inhabitants, its hospitality and its wide open spaces.
This activity, counting several hundred reviews on Trip Advisor, will convince you and your frients and let you leave this wonderful country with unique memories. This is Marrakech : strong moments that we remember for a long time.
Logistics & Details
Two sessions per day. Available all year round. Exact pick up time confirmed the day before by phone or Whatsapp.
Each quad can fit 2 people (one driver & 1 passenger).
Minimum 4 people per booking
Total time about 4 hours includes meet & greet, transfers, arrival, preparation, briefing, initiation, ride & hotel or riad return.
Minors under 16 are allow to participate as passenger and are not allowed to drive a buggy.
Minors 16 and over require parental waiver to pilot a buggy.
Children under 12 have to ride as passenger with an adult on the quad bike. They pay only half price.
A lot of people ask us for dunes, but unfortunately, there are no dunes close to Marrakech.
Good to Know
Don't forget to bring your ID (passeport or driving license).
Have your camera with you for great snapshots or serious photography.
Photo service available on site in extra, starting from 50 MAD / 5€.
We recommend you wear closed shoes, comfortable clothing, sunscreen and warm clothes for winter sunshine. To best enjoy this experience, we suggest you respect local customs and avoid wearing shorts or skirts.
For your peace of mind, we recommend you check you have a personal all risk insurance with repatriation option (If needed, this link may be helpful if your actual insurances don't cover all activities)
Included
Pick up from & return transfer to your hotel/riad (or closest parking) if in Marrakech or less than 5km from the center)
Yamaha Quad Bike (Grizzly 350cc) full automatic for a comfortable driving.
Guide with gas, goggles, helmet and waterproof jacket (if necessary) and one cheich for the camel tour to protect from the sun.
Tea break in a typical house : taste the famous mint tea and delicious Moroccan pancakes called msemen.
Bottled water during the activity.
Civil Liability Insurance.
Not included
Tips and extras.
Personal risk insurance.
*******************************************************************
**Version française**


Parcours dans le Désert des Jbilets !
Points forts
Changez de décor et d'air en seulement une demi-journée !
Découvrez l'extérieur de la ville de Marrakech et le vrai mode de vie des habitants des villages.
Des guides sympas, prêts à partager la passion de leur pays.
Changez d'air ! Dunes & Desert, leader des activités à Marrakech depuis 2007, vous emmène dans les meilleurs spots de la zone nord de Marrakech : palmeraies sauvages, sentiers rocheux et paysages lunaires au programme. Les vallées désertiques de cet endroit appelé le « Désert des Jbilets » vous surprendront par leur lumière et par le sentiment de dépaysement qu'elles procurent. A moins de 30 minutes du centre de Marrakech, il ne vous suffit que d'une demi-journée pour vous retrouver dans cet endroit très peu connu de tous.
Une fois sur place : sécurité d'abord ! Thé de bienvenue, quelques explications, briefing équipement (quads Yamaha) et initiation à la conduite afin d'être parés pour le départ. Notre réputation n'est plus à faire : la qualité du matériel et nos guides pros, sympas et attentionnés font aussi notre différence. Ils adaptent cette activité à tous les âges. Ils se feront un plaisir de montrer aux pilotes expérimentés leurs pistes et leurs spots préférés.
Une halte est prévue chez l'habitant pour se dégourdir les jambes et profiter de l'hospitalité berbère avec un thé à la menthe. Découvrez les abords du désert des Jbilets où s'arrêtent les sentiers battus et profitez même parfois de superbes vues sur les montagnes du Haut-Atlas. Il est aussi possible de privatiser cette expérience, sur demande, pour ajuster au mieux à tous vos désirs.
Une sortie parfaite pour les aventuriers voyageurs qui désirent découvrir une facette authentique du Maroc : ses habitants, son hospitalité et ses grands espaces. Cette activité, forte de plusieurs centaines d'avis sur Trip Advisor, ne pourra que vous convaincre et vous laisser repartir avec des souvenirs uniques de tous les moments forts. C'est cela Marrakech : des moments forts dont on se souvient longtemps.
A savoir
Deux départs par jour. Cette activité est possible toute l'année. Heure de rendez-vous précise confirmée le jour précédent par téléphone.
Un quad peut prendre deux personnes (un pilote et un passager)
Minimum 4 personnes par réservation.
Durée totale d'environ 4 heures: transferts, accueil et présentations, préparation, briefing, initiation, parcours et retour à l'hôtel.
Les mineurs de moins de 16 ans sont acceptés seulement comme passagers.
Les mineurs âgés de 16 ans et plus doivent être munis d'une autorisation parentale pour pouvoir piloter un quad.
Les enfants de moins de 12 ans doivent monter avec un adulte sur sur le quad. Ils ne payent que moitié prix.
On nous demande souvent s'il y a des dunes. Malheureusement il n'y en a pas autour de Marrakech.
A prévoir
Pensez à avoir votre pièce d'identité (passeport, CIN ou permis de conduire)
N'oubliez pas votre appareil photo pour des clichés sympas ou capturer les grands moments de la balade.
Des photos sont disponibles à la vente après la balade, en extra, à partir de 50MAD/5€.
Nous recommandons de porter des chaussures fermées, des vêtements souples et confortables, un écran solaire et des vêtements chauds pendant l'hiver. Pour votre confort et dans le respect des coutumes locales nous déconseillons de porter des shorts ou des jupes.
Pour votre tranquillité d'esprit, nous vous recommandons de vérifier que vous avez une assurance personnelle tous risques avec option rapatriement. Dans le cas où certaines activités ne seraient pas couvertes, ce lien peut vous être utile.
Inclus
Nous venons vous chercher et vous ramenons à votre hôtel/riad (ou au parking le plus proche) si situé au centre de Marrakech ou à moins de 5km.
Quads Yamaha (Grizzly 350cc) à boîte automatique pour un parcours confortable.
Guide, carburant, casques, lunettes, gants, veste imperméable (si nécessaire).
Pause thé chez l'habitant: goûtez le fameux thé à la menthe et les délicieuses crêpes marocaines appelées msemen.
Eau en bouteille pour l'activité.
Assurance responsabilité civile.
Non-inclus
Pourboires et extras.
Assurance risque individuelle.